Youth service organisations across the Sunshine Coast are embracing Generation Innovation and the GI Challenge, which offers young people the chance to turn their business dreams into a reality.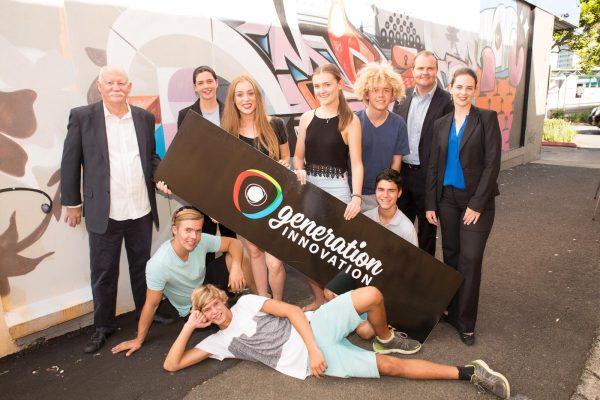 With the issue of youth unemployment high on the public agenda, youth service organisations are coming together in support of Generation Innovation's GI Challenge – a program that encourages entrepreneurship for 15 to 25-year-old Sunshine Coast locals.
Founder and chairman Ted O'Brien said when he started shaping his idea of youth entrepreneurship as a solution to youth unemployment, he hosted a round table at the Innovation Centre to run his idea by local organisations whose focus is on helping young people on the Coast.
"I have the vision and I can provide the lead, but I don't pretend to be an expert in running programs for young people.
"I'm a big believer in collaboration and if Generation Innovation was to be a success, we needed help from people with deeper expertise than me in a multitude of areas," Ted O'Brien said.
This collaborative approach has seen Generation Innovation evolve and it is now creating its own eco-system of partners each of whom is contributing expertise.
Christopher John, CEO of United Synergies, was the first person Ted approached from the sector and the two have since signed a Memorandum of Understanding governing a range of joint activities from identifying participants for the GI Challenge, leveraging United Synergies programs and facilities through to working together on transitioning young people into alternative pathways.
"Generation Innovation is an exciting opportunity for young people on the Sunshine Coast and United Synergies is looking forward to working alongside them to provide real world opportunities for youth across the Sunshine Coast," Mr John said.
Chris Turner, CEO of Sunny Kids, was another early supporter. "Finding common ground in business models that lean more on the private-sector than government, Sunny Kids and Generation Innovation are soon to announce a special partnering agreement to facilitate greater engagement from the business sector," Mr Turner said.
Other youth service organisations who have similarly been collaborating with Generation Innovation include Community Solutions, Fusion, SevGen, STEPS, IFYS, Beacon, Sustainable Partnerships Australia and the United Scripture Union, to name just a few.
"The magnitude of the challenge of youth unemployment and the boldness of our vision to unleash innovation in young people demands collaboration,"
"Only by drawing on our collective capabilities can we inspire hope and opportunity for younger generations," Ted O'Brien said.
Young people who have what it takes to start their own business are encouraged to contest the inaugural GI Challenge where applicants will receive training and guidance from business mentors and the best of them will receive seed capital to get start-up ventures off the ground.
For more information and to register for the GI Challenge visit www.generationinnovation.com.au.
Generation Innovation Ltd is about empowering young people with the confidence and skills they need to become entrepreneurs, achieving their own business goals and creating opportunities for themselves and others, without having to leave the region.